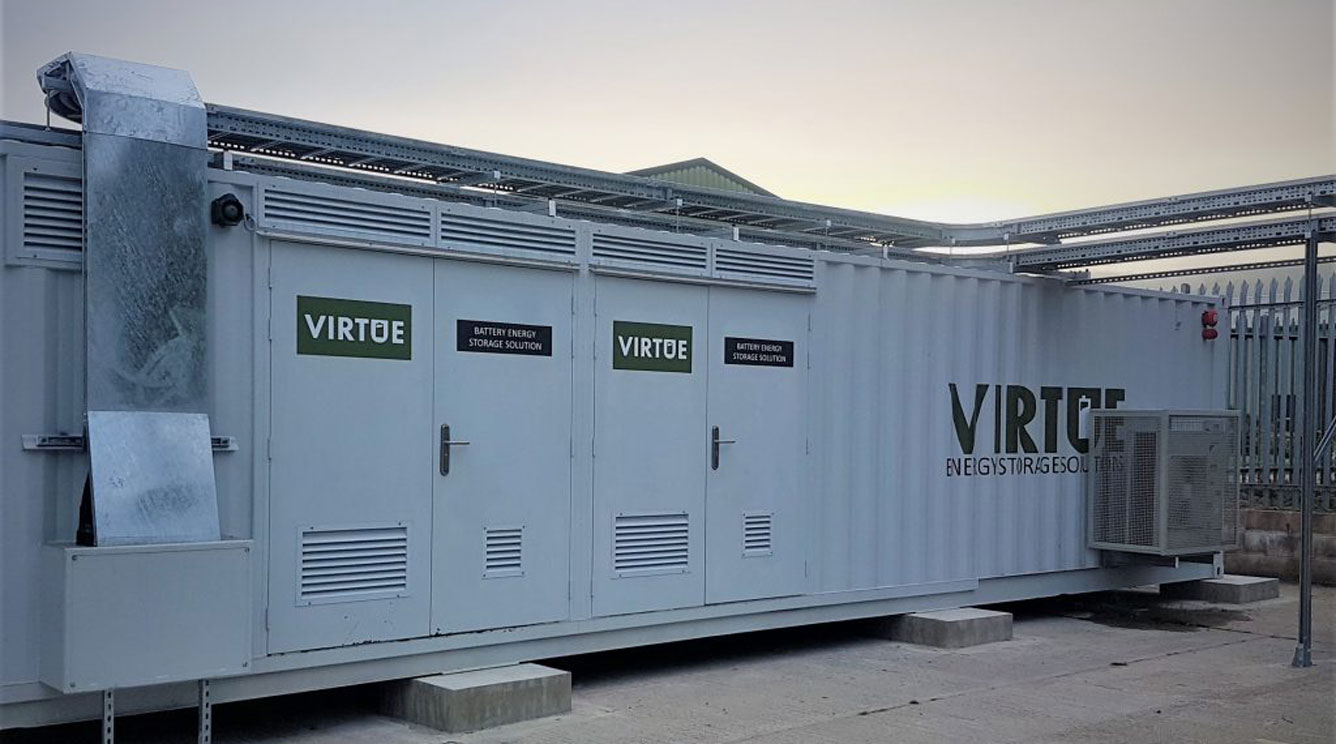 The AES Engineering Ltd group has placed a $1.8 million (£1.3 million) order for storage batteries and solar panels to reduce emissions at AESSEAL Inc.'s Rockford US headquarters.
This investment forms part of our global commitment, branded #29by29, to spend £29 million ($40 million) on environmental projects by April 1, 2029.
Similar investments are being introduced throughout the AES Engineering Ltd group, as already reported for our UK and India operations, as part of our commitment to go beyond Net Zero in support of our effort to combat global warming.
The benefits of solar power generation are well known, but you may be asking why and what are the benefits of the $900,000 (£650,000) investment in battery storage?
Battery storage is sometimes overlooked, but there is a strong argument for saying that it is currently one of the best choices for cutting energy waste in a sustainable manner, while also providing back-up in case of power outages.
A large battery array storage system can charge from the electricity grid during the off-peak hours of the day or night when the generation mix provides a lower carbon intensity. It then discharges back to site when it is required.
This is particularly effective when combined with onsite renewable generation from Solar PV panels and AESSEAL Inc. has also ordered $750,000 of solar panels that will generate 720,000 kWh of green electricity. Site work and other associated costs bring the total investment to $1.8 million.
In addition to providing 70 percent of the operation's current electricity needs, the energy generated from the panels will also be stored in the battery when supply exceeds demand. It is estimated that this could provide a 50 percent carbon reduction for each kWh stored and redelivered to the site.
As described by Dr Alex Mardapittas of Powerstar, "The CO2 content of the electricity during the day time is 100 percent more than the CO2 content during the night time. Therefore, storing energy in the night and using it during the day is extremely green and will reduce the real CO2 of your factory significantly."
The benefits of storing at night (low CO2 content electricity) and delivering it during the day (high CO2 content electricity) are combined with the voltage regulation system and the gains made by storing excess solar energy on site. This investment will therefore reduce the carbon footprint at our Rockford site by an estimated 140 tonnes of CO2e annually.
The AESSEAL Inc. headquarters in Rockford Tennessee was amongst the earliest buyers of green energy when it became available to purchase in the fourth quarter of 2021.
We have signed a contract to buy 90 percent green electricity for 2022 at an additional cost of $10,000. There will therefore be a limited CO2 reduction for AESSEAL Inc.'s Scope 2 emission calculations. Our group is committed to reducing emissions, for the good of the planet, even when there is no benefit to our own emissions scorecard.
The battery array will also act as an Uninterruptible Power Supply (UPS), preventing power outages and continuing to keep machines running and safe as well as providing a return on investment of $93,000 (£67,000) a year in reduced energy bills.
Quite apart from it being the right thing to do for our planet, this investment is also helping to future proof our operations, as sooner or later regulators are going to demand that businesses are taxed on their carbon footprint.
Financial grounds alone would not justify the $1.8 million investment. By adding the financial benefit of the double duty as a UPS, it makes sense both on a stand-alone basis as well as contributing to our £29 million ($40 million) by 29 investment to help reduce global warming.